Because I am pancake obsessed and Pamela's Gluten Free Pancake Mix obsessed. #sorrynotsorry
These are a great protein packed snack!
Salmon Pancakes
1 can salmon (I use Bear&Wolf Wild Alaskan from Costco)
1 egg
4 Tbls Pamela's Gluten Free Pancake mix #duh
You could also use oats or quinoa flakes
1 tsp EVOO #extravirginoliveoil
1 Tbls Hemp Hearts or chopped pecans
Seasonings (I used Costco No Salt Seasoning) you could use whatever your little heart desires. Dash of sea salt.
Form into little patties.
Fry in coconut oil on medium heat till browned about 5 min on each side.
Serve with a dollop of Plain Greek Yogurt #chobanibrandisthebest
This made about 5 small pancakes.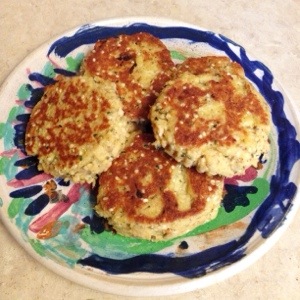 Leave a Comment
Let us know your thoughts on this post but remember to place nicely folks!