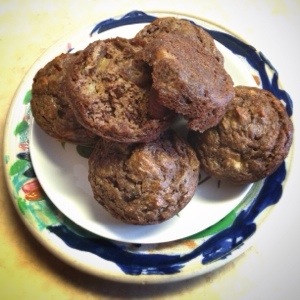 Muffin-topless Muffins AKA healthy muffins AKA delicious.
Thanks to my good friend Tami for this little nugget of a recipe that I actually almost followed exactly. #almost
These are so good (even though my picture doesn't do them justice)
Mix together:
3 Tbsp Coconut oil
1 banana (if it's not super ripe you can smash it in the peel first – works more better if it's smashed)
3 eggs
2 Tbsp Chia Seeds
1 tsp Vanilla
1/2 cup Coconut milk
In a separate bowl mix:
1/4 cup coconut flour
1/4 cup almond flour/meal
1/2 tsp baking soda
1/4 tsp salt
1 tsp cinnamon (I put more because I love it!)
I added 2 Tbsp of Maca Powder (http://navitasnaturals.com/product/457/Maca-Raw-.html) It's not mandatory but just boosts the boom!
Now mix the dry ingredients into the wet.
I added chopped pecans and chopped dates.
But you could add pretty much anything. Or nothing at all. #dowhatmakesyouhappy Cranberries. Walnuts. Etc. #nopb2thistime
pour, spoon or scoop into a greased (with coconut oil) pan.
bake at 400 degrees for about 18 min.
Now getcha eat on!
#yumtowncity #glutenfree #muffins #cleaneating
Leave a Comment
Let us know your thoughts on this post but remember to place nicely folks!